Pakistan Vs India- Cricketers Bullied By Extremist Indian Crowd
World Cup 2023 is taking place in India, and yesterday, Pakistan played with India in Ahmedabad. The city was going to be harsh towards Pakistanis due to their track record of Islamophobia, being a stronghold of the BJP, and that is what unfortunately happened. India and Pakistan both played the game, and India won more easily than anyone had predicted.
Pakistani players were, however, subjected to extreme bullying by the Indian crowd. Pakistan's decision to play in India despite all the hostility was already being questioned in Pakistan. Pakistani media and spectators were not given visas. Zainab Abbas had to leave the country due to the extreme hatred she was getting, and now we saw bullying and Islamophobia displayed by the Indian crowd during the game.
Table of Contents
"Naam Mitao Babar Ka" was chanted openly when he walked in.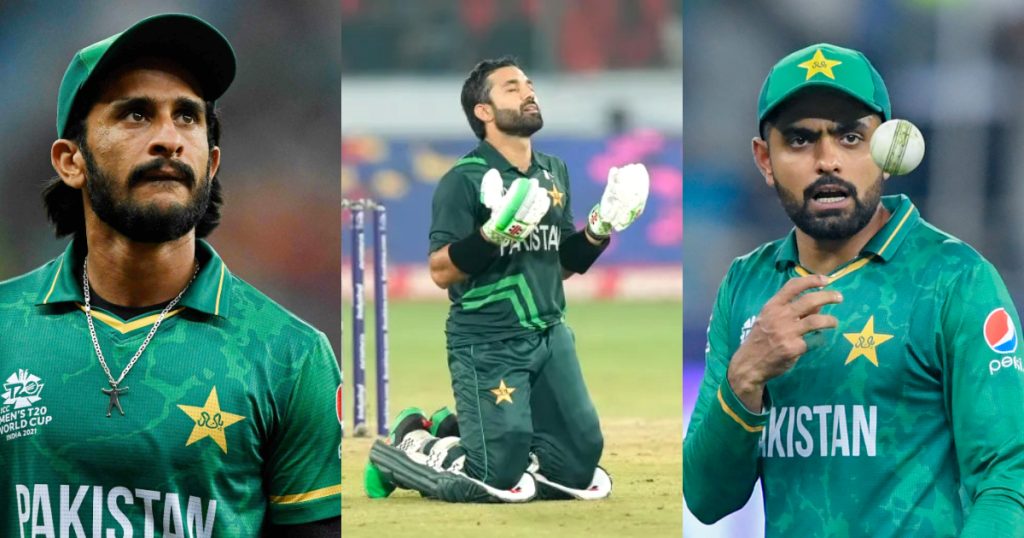 The intense rivalry between Pakistan and India in cricket has always witnessed impassioned emotions running high during their riveting encounters. However, beneath all the rivalry, the spirit of sportsmanship must prevail. Sadly, the recent Pakistan-India cricket match has revealed an unpleasant truth that cannot be ignored. The cricketers from Pakistan were subjected to bullying and harassment by a section of extremist Indian crowd, tarnishing the spirit of the game.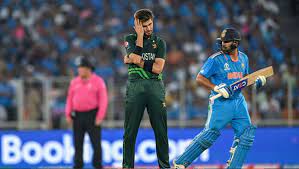 Pakistan Vs India- Cricketers Bullied By Extremist Indian Crowd
Unacceptable behavior:

Witnessing cricketers being bullied and humiliated based on their nationality is disheartening. The magnitude of the situation became evident when the players shared their distressing experiences. Such behavior not only tarnishes the image of the sport but also fuels negativity between the two nations.
Impact on players:

Being targeted by unruly spectators takes a toll on the mental and emotional well-being of the players. It not only affects their performance on the field but also undermines their faith in the game. This malicious behavior can have long-lasting effects on the cricketers' mental health, making it essential to address this issue promptly.
Pakistan Vs India- Cricketers Bullied By Extremist Indian Crowd
Importance of sportsmanship:
Cricket has always been a platform for fostering camaraderie, friendship, and mutual respect among players from different nations. Both India and Pakistan must reinforce the principles of sportsmanship within their cricketing cultures. The responsibility lies not only with the cricket boards but also with cricket enthusiasts to promote fair play and respect for all athletes.
Pakistan Vs India- Cricketers Bullied By Extremist Indian Crowd

The incident of Pakistani cricketers facing bullying by an extremist Indian crowd is a stark reminder that the spirit of the game should never be compromised. It is time for cricket communities from both nations – players and fans alike – to rise above political differences and celebrate the essence of sportsmanship. Let's hope that such incidents are addressed and all cricket enthusiasts can unite to foster a spirit of harmony and respect on and off the cricket field.
Meanwhile, Babar Azam was getting a signed shirt from Virat Kohli after the match.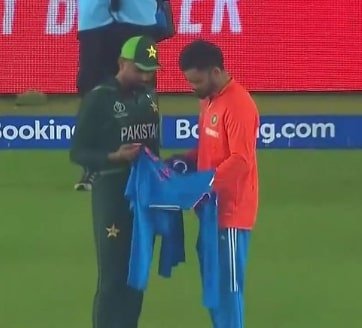 Even Wasim Akram who likes to be politically correct all the time could not understand this shirt exchange.
Pakistan Vs India- Cricketers Bullied By Extremist Indian Crowd
Yes, PCB is a spineless organization. The Indian Cricket Team is one of the best in the world, so defeat in the game was not a big deal. In the game one team wins and the other loses. Pakistan has defetaed India several times as well. But after so many Hindutva attacks on the players, Pakistani fans not being allowed to go watch the World Cup, some display of back bone from Zaka Ashraf or even Babar Azam would have been nice!
Thanks for reading our blog Pakistan Vs India- Cricketers Bullied By Extremist Indian Crowd. Keep coming here for more!